Highly cost-effective upgrade for HPOE-2400G – More PoE budget!!!
The HPOE-2400G, an IEEE 802.3at PoE+ Injector Hub, is compliant with any kind of Ethernet environments. It also can help to upgrade by supporting 30-watt Power over Ethernet without changing or swapping the existing switches or structures. Currently, the demand of IEEE 802.3at PoE+ devices is becoming more popular. Therefore, PLANET has improved the popular 24-port Gigabit PoE+ Injector Hub to support PoE budget up to 720-watt PoE output capability at a more affordable cost. This new change will make every PoE+ injector port totally support 30 watts of output.

PLANET HPOE-2400G, the 24-port Gigabit IEEE 802.3at High Power PoE Web Management Injector Hub, features both IEEE 802.3af and High Power IEEE 802.3at Power over Ethernet (PoE) that combines up to 30-watt power output and data per port over one CAT 5E/6 Ethernet cable. It is designed specifically to meet the growing demand of higher power consuming network PD (powered devices) such as PTZ (Pan, Tilt & Zoom) / speed dome network cameras, multi-channel (802.11a/b/g/n) wireless LAN access points and other network devices by providing double amount of PoE power than the conventional 802.3af PoE PSE.
IEEE 802.3at PoE Standard Compliance
The IEEE 802.3af Power over Ethernet Standard is becoming popular as the PoE demand for network-powered applications is increasing. With increasing critical applications, the demand for higher power is on the rise. Hence, the IEEE 802.3at High Power over Ethernet standard is defined to allow delivery of a maximum input power of 30 watts per PoE device. The IEEE 802.3at PoE standard is an ideal solution to meeting high power requirements directly via the RJ-45 interface. Compliant with IEEE 802.3at, the HPOE-2400G possesses stronger power capability than the existing 802.3af PoE PSE.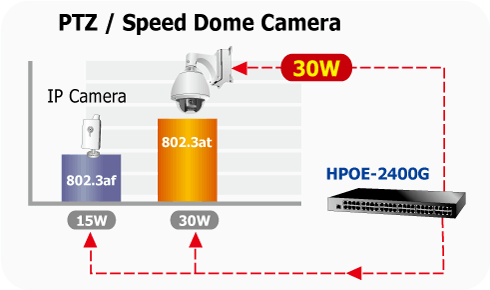 Intelligent Powered Device Alive Check
PLANET R&D team is here to improve and create new Managed PoE products, adopting not only Power over Ethernet technology, but also automated PD (powered device) monitoring and real-time PoE status. The HPOE-2400G can be configured to monitor connected PD status in real-time via ping action. Once the PD stops working and responding, the HPOE-2400G will recycle the PoE port power and bring the PD back to work. It will greatly enhance the network reliability through the PoE port resetting the PD's power source and reducing administrator management burden.

PoE Schedule for Energy Saving
Under the trend of energy saving worldwide and contributing to environment protection on the Earth, the HPOE-2400G can effectively control the power supply besides its capability of giving high watts power. The "PoE schedule" function helps you to enable or disable PoE power feeding for each PoE port during specified time intervals and it is a powerful function to help SMBs or enterprises save power and money.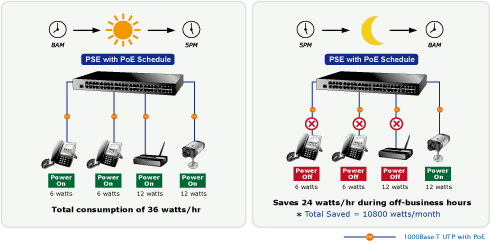 Advanced Power Management
To facilitate the power management, the HPOE-2400G's powerful PoE management features include over temperature protection, usage threshold alert and auto power allocation to prevent power budget overloading. The PoE power budget can be allocated by priorities or classification and send alert event logs when power usage reaches the defined threshold. The HPOE-2400G enables centralization of the power supply and optimizes the installation and power management of remote network devices; therefore, it eliminates costs for additional AC wiring and reduces installation time.
Quick and Easy PoE Network Deployment
The HPOE-2400G complies with IEEE 802.3, IEEE 802.3u, IEEE 802.3ab, IEEE 802.3af standards and IEEE 802.3at standard. With 24 10/100/1000Base-T Gigabit Ethernet ports, the HPOE-2400G supports 52V DC power for any remote 802.3af / 802.3at powered device (PD). Supporting 720 watts of PoE power budget, the HPOE-2400G provides sufficient 15.4-/30.8-watt PoE power up to 24 remote PD devices.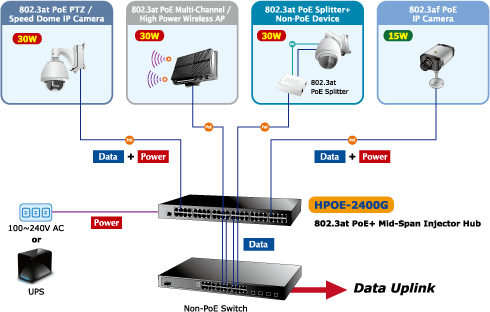 Easy Cabling Installation
The HPOE-2400G is installed between a regular Ethernet Switch and the powered devices; it injects power to the PDs without affecting data transmission performance. It offers a cost effective and quick solution to upgrading network system to IEEE 802.3af/IEEE 802.3at Power over Ethernet system without replacing the existing Ethernet Switch. There are 48 RJ-45 STP ports on the front panel of the POE-2400G, of which the 24 ports are on the lower stack function as "Data input" and the other 24 ports are on the upper stack function as "PoE (Data and Power) output". The 24 "PoE output" ports are also the power injectors that transmit DC voltage to the CAT 5/5e/6 cable and transfer data and power simultaneously between the Injectors and Splitters.
Friendly Web Management Interface
To efficiently manage the powered devices, the HPOE-2400G provides simple Web management interface in which administrators can control the functions including port Enable / Disable, port priority, system configuration, change of User Name/Password and smart features for powered devices. The PoE injector hub can automatically detect the power status of each port and show messages on its Web management interface. These features also provide users with a cost-effective way to manage the device via Internet whenever they are at work or at home.