Distance Extension with High Performance and Steady Network Communication
PLANET 10/100Base-TX to 100Base-FX Industrial Media Converter IFT-80xT series extends communication distance with stable performance via fiber optic wire, in which the extended distance could be up to 2km with the IFT-802T, up to 15km with the IFT-802TS15 or up to 20km with the IFT-805AT (depending on SFP module). The IFT-80xT series is specifically equipped with durable components and strong housing case to operate reliably in electrically harsh and climatically demanding environments. The industrial level media converter provides a high level of immunity to electromagnetic interference and heavy electrical surges which are usually found on plant floors or traffic control cabinets on sidewalk. Being able to operate under the temperature range from -40 to 75 degrees C allows the IFT-80xT series to be placed in almost any difficult environment.

Robust Media Converter Performance
PLANET IFT-80xT 10/100Base-TX to 100Base-FX Industrial Media Converter series efficiently converts data between 10/100Base-TX and 100Base-FX network. The IFT-80xT series provides the flexibility to all kinds of 10/100Mbps Ethernet Media on RJ-45 port and performs highly stable fiber performance.

Easy Installation and Wide Range of Power Usages
The IFT-80xT series is packaged in a compact IP-30 case that allows either DIN rail or panel mounting to have efficient usage of cabinet space. It provides an integrated power supply with a wide range of voltages for worldwide operation. It also offers dual-redundant, reversible polarity 12V DC to 48V DC power supply inputs for high availability applications requiring dual or backup power inputs.
Transport Networking


PLANET's Industrial Media Converter, IFT-80xT series, offers high reliability and security to guarantee the continuous industrial operation in harsh environments such as control cabinet of transportation, factory floors or and environments with extremely low or high temperature. In the industrial networking environments, each networked device is required to keep running continuously in the hazardous status. If industrial equipment fails to connect to the network, it might influence the entire operation of industrial systems and thus cause incredibly financial loss. With the IFT-80xT Industrial Media Converter, which complies with all the requirements of industrial applications, customers may enjoy high reliability, fast recovery capability, and safe Ethernet network operation.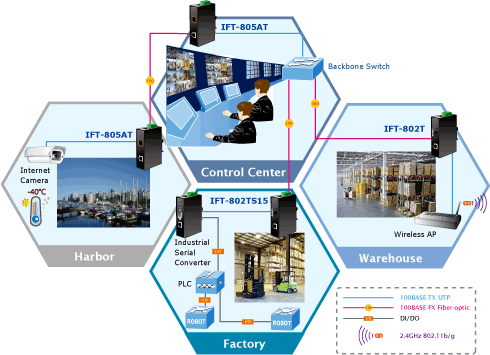 Fiber-optic Networking for ISPs, Enterprises, and Homes


With stable performance of data transmission and easy installation, the IFT-80xT Industrial Media Converter series can build an ISP network solution of FTTH (Fiber to the Home), FTTC (Fiber to the Curb) for ISPs, or FTTB (Fiber to the Building) for enterprises with small office network environment.