PLANET IAP-2001PE Industrial Access Point brings users the ideal solution for robust and long distance wireless access in harsh industrial network. The IAP-2001PE is specially designed for the Wi-Fi applications over a TCP/IP network in the hardened environment from -10 to 60 degrees C operating temperature. It comes with 802.11n Wireless interface for up to 300Mbps performance and provides 4 10/100Mbps copper ports with 1-port IEEE 802.3af PoE PD (Powered Device) inject interface delivered in an IP30 rugged strong case. Moreover, the IAP-2001PE provides one 100Base-FX SFP interface for optional use of single/multi-mode SFP module. The fiber optical interface of the IAP-2001PE not only functions for long distance expansion of Intranet LAN network, but also can perform as the Internet WAN fiber interface through the built-in management software configuration.
Fiber Optic Link Capability for Flexible Distance Extension
Equipped with one 100Base-FX SFP (Small-Form Factor Pluggable) interface, the deployed distance of the IAP-2000PE Industrial AP can be extended from 2km (via multi-mode fiber) up to above 60km (via single-mode fiber). In other words, the IAP-2001PE provides more flexibility for Transportation, Manufacturing, Security and Surveillance with distance extension without any limitation and is a suitable model either for long or short distance network deployment.

Steady and Wide-ranging Wireless Network Communication
The IAP-2001PE features 802.11n radio with 2T2R antenna technology compliant with 802.11b/g/n standards. It is equipped with two external 5dBi High-Gain antennas to provide strong signal and excellent performance even in the long range or bad environment. With detachable RP-SMA connector design in the IAP-2001PE, it allows users to manually exchange higher gain antenna for further wireless coverage range.

Multiple Operating & Wireless Modes
The IAP-2001PE supports multiple wireless connectivities: Wireless AP, Wireless Repeater, WDS Point-to-Point (PtP) and Point-to-Multipoint (PtMP), allowing various applications that give users more comprehensive experience. It also helps users to easily build wireless network and extend the wireless range of the existing wireless network.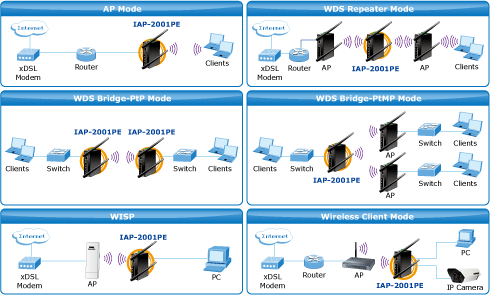 Wide Range of Wireless Security Supports
To secure the wireless communication, the IAP-2001PE supports up-to-date encryption, WPA-PSK / WPA2-PSK with TKIP / AES encryption. In order to simplify the security settings, the IAP-2001PE supports Wi-Fi Protected Setup (WPS) configuration with PBC/PIN type, by just clicking the options and the secure connection between AP and wireless client will be built immediately.

Industrial Grade Fiber Router
The IAP-2001PE is also a perfect Industrial Fiber Router which can provide very high performance for Internet access, both downstream and upstream up to 100Mbps through the fiber interface. Moreover, the IAP-2001PE not only provides basic router functions like DHCP server, Virtual Server, DMZ, and UPnP, but also offers full firewall functions including Network Address Translation (NAT), IP / Port / MAC filtering. It serves as an Internet firewall to protect your network from being accessed by unauthorized users.

IPv6 / IPv4 Web and SNMP Management
The IAP-2001PE supports both IPv6 and IPv4 web management functions. Its SNMP feature allows the system administrator to remotely monitor and control the network devices more efficiently. With the friendly management interface and plenty of management functions included, the IAP-2001PE is the best choice for system integrators to build large scale wireless service and to connect with the IPv6 network.

Easy Installation and Wide Range of Power Usages
The IAP-2001PE is packaged in a strong IP 30 case that allows either DIN rail or panel mounting for efficient usage of cabinet space. It provides an integrated power supply with a wide range of voltages for worldwide operations. It also offers dual-redundant, reversible polarity 12V DC to 48V DC power supply inputs for high availability applications requiring dual or backup power inputs.

Flexible Deployment with PoE Feature
Compliant with IEEE 802.3af Power over Ethernet standard, the IAP-2001PE can be powered and networked by a single UTP cable. It thus reduces the needs of extra cables and dedicated electrical outlets on the wall, ceiling or any other place that is difficult to reach. The wireless AP deployment becomes more flexible and worries free from the power outlet locations.